About the Artist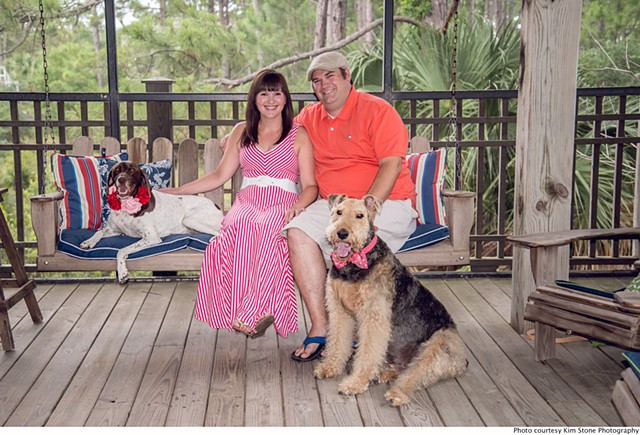 The work of internationally known artist, Beth Whitlow, is characterized by a fresh, whimsical perspective on dog portraiture. Her current body of work focuses on the juxtaposition of the fantasy world and reality, while providing a refreshing commentary on the canine intellect. Using the glamour of fashion to represent each dog's personality, each piece shows the unspoken expectations house pets must have by how they are treated as equals in our families.
Beth began oil painting in the summer of 2010 under the instruction of Sarah Keathley at the Lemley House Art Guild, where she is a member. She prefers the richness of oil paint as it allows for a variation of textures, such as fur, silk, velvet, and feathers, and creates a striking contrast between light and dark. Her whimsical portraits are light-hearted social satires on everyday house pets and how they often reflect humankind.
Being a dog lover, the idea to express their emotion on canvas came naturally. "When I met my husband, I was overtaken with the amount of love he has for animals," says Beth. "I began to understand that each dog has a personality and a way of connecting with us that surpasses language. This continues to be a driving force in my life. I hope for this collection to put a smile on your face!"
Beth graduated from the University of Arkansas in Fayetteville in 2007 with a Bachelor of Arts. She and her husband, Josh, live in Russellville, AR with Case the Airedale Terrier, EmmyLou the German Shorthaired Pointer, and a goofy puppy named Baron Von Schnuazer
Beth works largely off commission and takes great joy in capturing each dog's personality!